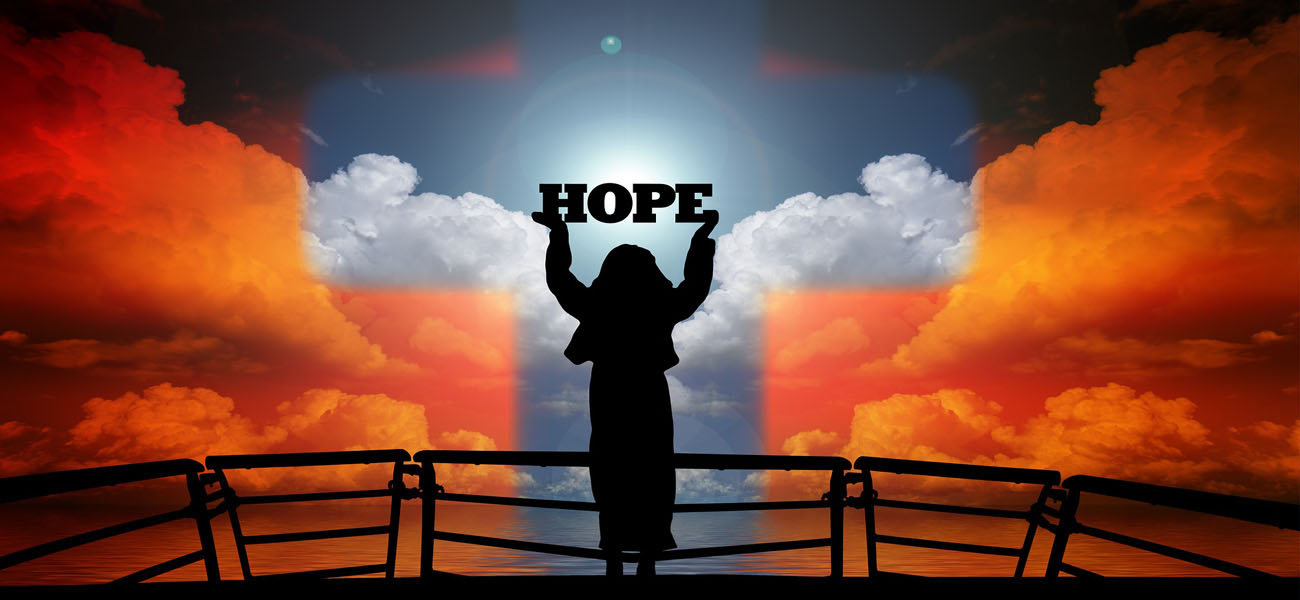 The world is going crazy, but God is in control... and there is something you can do.
May the God of hope fill you with all joy and peace as you trust in him, so that you may overflow with hope by the power of the Holy Spirit. - Romans 15:13
You Can Do Something!
When you see a statement like the one above, it usually leads to... "Send us money." We're not asking for money, there are more important things that are needed.
We're asking you to remember that the answer is always Jesus. The world is going crazy... but the answer is still ALWAYS JESUS.
AJ83.com is a ministry of Move To Assurance. Part of our ministry involves web sites that proclaim Christ and the truth of scripture. This is what we do, on the street and on the web. Proclaim Jesus and the good news of salvation through our Lord Jesus.
The world is going crazy. Do you feel helpless? Do you feel like you should be doing something, but there does not seem to be anything you can do? There is A LOT you can do!! Here is a list:
Let's hold firmly to the confession of our hope without wavering, for He who promised is faithful. - Hebrews 10:23
PRAY and Pray Some More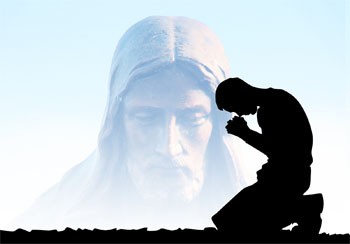 What is the most important thing we can be praying for? Salvation. It does not matter how crazy the world seems, the greatest need is not for republicans or democrats to win the next election... the greatest need is for people to be saved.
Pray for the people closest to you, those in your family who are not saved.
Pray for your friends and neighbors who are not saved.
Pray for our leaders in government to be saved. If you know anyone who works in government, pray for them by name. Pray for people in all levels of government, from local town council members, to our President and his staff.
Pray for those in business to be saved. Pray for the owners, management and employees of Facebook, Twitter, Google, Microsoft, Amazon, My Pillow and other major corporations. Pray for those who are opposing Jesus Christ and those who are being persecuted.
Pray for those who are being persecuted for their belief in Jesus Christ. Ask the Lord to give them strength, boldness and wisdom, that they may be a witness to those who persecute them.
Thank God! Do not forget to thank God for all He is doing. The world may seem crazy to us, but God is in control. Everything is going according to HIs plan. Thank Him! Thank Him for the craziness. Thank Him for our leaders. Thank Him for His plans for defeating sin and death. Thank Him for all He has done for you, that He has saved you, and your hope is 100% in Jesus.
But those who hope in the Lord will renew their strength. They will soar on wings like eagles; they will run and not grow weary, they will walk and not be faint. - Isaiah 40:31
POST ABOUT AJ83.com ON YOUR SOCIAL MEDIA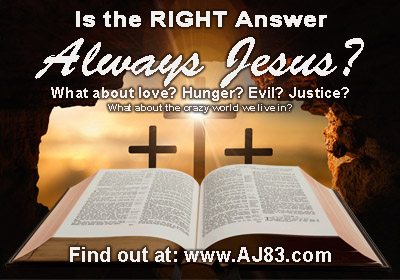 The purpose of this web site is to proclaim that the answer is ALWAYS JESUS, and we all need Jesus to save us from God's wrath on sin. Our goal is to answer the biggest questions and issues we face today, and demonstrate that the answer is Always Jesus. If you like what you see here, please tell others. Use your social media accounts to give people a link to this web site (www.AJ83.com) or any page on this web site. This is incredibly important.
The image you see is a meme that can be used to tell people about this web site. You may copy this meme and post it on Facebook, Twitter, WeMe, Gab or anyplace where you have access. It is available in three sizes. The 800 x 560 is usually suitable for posting on social media:
AJ83 Meme (1900x1331) AJ83 Mene (800x560) AJ83 Mene (400x280)
Clicking on any of the above links will open the image in a new tab. Or right click on the link and save the image on your phone or computer. It can then be upload to social media just like any other photograph.
BTW, if you disagree with anything you read on AJ83.com, or feel we should say more on a topic or cover other topics, please let us know. This link will bring you to our contact form. We have a very small staff and cannot answer all comments, but we do read them (unless they are long missives -- keep it short) and your comments do make a difference.
Little children, let us not love in word or talk but in deed and in truth. - 1 John 3:18
SOCIAL MEDIA - LIKES, COMMENTS and REVIEWS
Please leave a comment on our social media posts, like them (up vote), or leave a review about this web site on Facebook. Our ministry is called "Move To Assurance"and we often are known on social media as The Science Pastor. You'll see those names on our social media pages. If you comment on or review this web site (www.AJ83.com), please include a link to this web site. Thank you.
FACEBOOK REVIEWS:
Review Us On Facebook
YOUTUBE VIDEOS:
Comment on Videos on YouTube
GAB POSTS:
Like and Comment on Gab Posts
TWITTER:
Comment or Like Our Posts on Twitter
Note: We are in the process of moving away from Facebook, YouTube and Twitter. However, our accounts with these social media sites will not be deleted. Links to our new social media pages will be posted here as they become available. Our staff is very small, so sometimes things go slowly. That's why we need your help. Your posting links to this site on your social media is a big deal. You are the staff we don't have here in our office. Thank you!