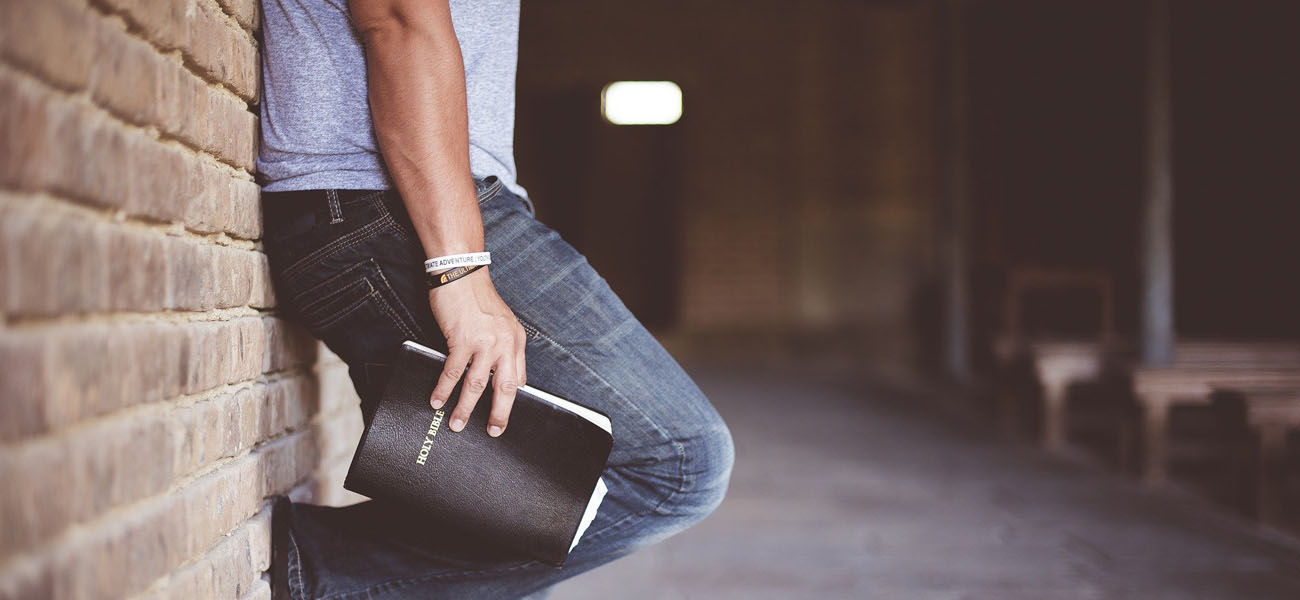 Go to Part 1: Understanding Scripture
Top Five Commonly Misunderstood Bible Verses
The most common reason for misunderstanding a Bible verse is reading that verse out of context. Knowing the context means knowing who is speaking; who they are speaking to; where they are (the cultural context); what is the immediate textual context (the verses surrounding the verse being studied); the context of the book; the context of the testament (Old or New?); and the overall context of the Bible.
What are the top five examples of misunderstood scripture?
1

If you confess with your mouth Jesus as Lord, and believe in your heart that God raised Him from the dead, you will be saved. - Romans 10:9 (NASB)

If you declare with your mouth, "Jesus is Lord," and believe in your heart that God raised him from the dead, you will be saved. - Romans 10:9 (NIV)
I've had many people say to me, "I'm a Christian. Listen... 'Jesus is Lord.' I've just said those words and that means I am a Christian." However, that is not what Romans 10:9 is saying. THe word "confess" means to do more than just say the words. It means that you are in full agreement with the Father's declaration that Jesus is your Lord and Savior. I have included the NIV translation because it is wrong, and leads people into a misunderstanding of scripture. To "confess" means more than to just say (declare) the words.
What does it mean when someone is your Lord? They are THE boss. You have no say. You are the slave, they are the one who tells you what to do, and you do it. It is your obligation to hear what your Lord says, understand it correctly, and do it. If Jesus is your Lord, you desire to obey Jesus in ALL things. This, of course, means you spend a good amount of time reading the Bible, studying the Bible, and learning from trusted teachers, so you will know God better and correctly understand what He wants.
2

Do not judge so that you will not be judged. - Matthew 7:1 (NASB)
This verse is commonly misunderstood to mean we should not judge others. Of course, that interpretation makes it self-contradictory. You are judging people because they are judging people. However, if you keep reading, verse two provides some context, "For in the way you judge, you will be judged;" Ahhh... it's talking about the way you judge needs to be correct. Keep reading and in verse five scripture says, "You hypocrite, first take the log out of your own eye..." What these verses are saying is, don't be a hypocrite when you judge others. For example, government officials should not tell people not to do something, and judge people who violate their edicts as being criminal or simply wrong, and then they go out and violate their own edicts. God says, don't do that.
Scripture does not say we cannot judge others. However, we are to judge fairly, justly, and not be hypocritical in our judgments.
3

Be still, and know that I am God... - Psalm 46:10 (KJV)

Cease striving and know that I am God; - Psalm 46:10 (NASB)
This verse, "Be still, and know I am God." is used to convince people that New Age (Hinduism) meditation is actually Christian. They say you need to be still, calm your thoughts, focus on and repeat a word or phrase, and empty your mind of your thoughts and worries so that you can hear the small, still voice of God. By doing this, you will grow closer to God. That is all a lie used to lead you away from Jesus. Biblical (Christian) meditation involves filling your mind, not emptying it. Fill your mind with scripture, and actively THINK about that scripture. "This book [the Bible] of the law shall not depart from your mouth, but you shall meditate on it day and night, so that you may be careful to do according to all that is written in it."
The context of Psalm 46, which was the inspiration for the hymn 'A Mighty Fortress Is Our God,' is evident beginning with verse 1, "God is our refuge and strength, a very present help in trouble." When things seem to be going wrong, we don't need to be anxious. When there are troubles, "cease striving." Stop rushing about here and there trying to solve the problems on your own! Calm down. God is in control. God is powerful, and nothing happens outside of His will. Relax. Trust God. That is what Psalm 46 is saying.
4

"For I know the plans I have for you," declares the Lord, "plans to prosper you and not to harm you, plans to give you hope and a future." - Jeremiah 29:11 (NIV)

"For I know the thoughts that I think toward you," saith the Lord, "thoughts of peace, and not of evil, to give you an expected end." - Jeremiah 29:11 (KJV)
This verse is a favorite of those preaching the prosperity gospel, using it to proclaim that God wants people to be healthy and wealthy. You can have it all, if you just __________________ (the prosperity preacher will fill in this blank with various things, including sending them money). However, that is far from what God is actually saying.
Who is God speaking to? The nation of Israel. This is not a promise for individuals, it is a promise specifically for the nation of Israel. What is the historical context? Jeremiah wrote this as a letter to the Jewish captives in Babylon shortly after the 597 BC deportation. Things looked bad for Israel. They had been crushed. This was the second wave of deportation of Jewish captives to Babylon, in this case including the prophet Ezekiel. Things looked dark. However, God was using Jeremiah to give the captives hope, telling them He would bless Israel (the nation) in the future.
5

We know that God causes all things to work together for good to those who love God, to those who are called according to His purpose. - Romans 8:28 (NASB)
This verse is used to tell people, "Don't worry. Things may look bleak now, but they will get better for you... if you love God." That's NOT what it is saying. In fact, that would be a direct contradiction of what scripture says in other places. For example,
All who desire to live godly in Christ Jesus will be persecuted. - 1 Timothy 3:12 (NASB)
In Romans 8, who is Paul speaking to? Believers. What is he talking about? That we have been delivered from the bondage of sin and have victory in Christ. We are children of God and heirs with Christ. Even if we are suffering now with Christ, it is so we will be glorified with Christ. (Romans 8:16-17) Verse 28 is telling us: even if things are no going well today, no matter what is happening, God (Jesus Christ) will be glorified.
Remember, IT is always about Jesus. "It" meaning everything in the Bible. The "good" referred to in verse 28 is all about God. God will be glorified, not us. Everything always points to Jesus. If we read verse 28 and interpret it to be about us, we have it wrong. We are the slaves, Jesus is Lord. Everything in scripture is about Jesus. ALWAYS JESUS!