BORN AGAIN?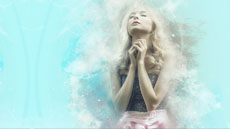 Jesus says you must be born again: "Truly, truly, I say to you, unless one is born again he cannot see the kingdom of God." - John 3:3
What does it mean to be born again?
We are all born as children of Satan, slaves to sin.
You are of your father the devil, and your will is to do your father's desires. He was a murderer from the beginning, and has nothing to do with the truth, because there is no truth in him. When he lies, he speaks out of his own character, for he is a liar and the father of lies. - John 8:44
When God gives you a new heart, you believe and repent, and are a new person... born again into a new life as a child of God.
And I will give you a new heart, and a new spirit I will put within you. And I will remove the heart of stone from your flesh and give you a heart of flesh. - Ezekiel 36:26
Therefore, if anyone is in Christ, he is a new creation. The old has passed away; behold, the new has come. - 2 Corinthians 5:17
We know that our old self was crucified with him in order that the body of sin might be brought to nothing, so that we would no longer be enslaved to sin. - Romans 6:6
When Jesus gives you a new heart (new desires) you were made a new person (born again) who loves God and rejects sin. The answer is ALWAYS JESUS!