THE NAME
ABOVE ALL NAMES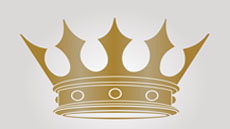 God bestowed on Him the name which is above every name, so that at the name of Jesus every knee will bow, of those who are in heaven and on earth and under the earth, and that every tongue will confess that Jesus Christ is Lord, to the glory of God the Father. - Philippians 2:9-11
What does 'name above all names' mean?
Jesus, who is God, humbled Himself by becoming a man. But, not only that... He took on the character of a servant... and on top of that He willingly died a disgraceful death in your place, so you could live.
So God elevated Him to his rightful place of glory, giving Him the supreme name of 'Lord.' This name shows Christ's absolute authority and lordship as the divine King of the universe.
And every tongue... every person will acknowledge this. They will bow. And they will confess He is Lord. Every one.
This does not mean everyone is saved. Those in heaven and everyone in hell will acknowledge Jesus as Lord; the King of kings; the one Lord through whom all things were created; the Lord of both the living and the dead.
As Lord Jesus, the One who brings us into the Kingdom of Heaven.
His name is the name above all names because He is Lord. He is God. He has supreme authority. He is the One who sits at the right hand of God, and ALL will honor and bow down before Him.