JESUS IS:
LAMB of GOD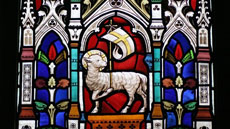 Behold, the Lamb of God, who takes away the sin of the world! - John 1:29
Jesus is called the 'lamb' who takes away the sins of the world because He is the perfect and ultimate sacrifice for our sin. To understand this, we need to understand who we are.
We are made in the image of God..We represent the character of God to all of the universe. That is why sin is so serious. When we lie, or steal, or look at another person with lust, we represent God as a lying thief and an adulterer. When we break God's laws (the Ten Commandments), it is an offense against the perfect and Holy God... and the just penalty must be paid
In Jesus' day a lamb was sacrificed twice a day. Those sacrifices of animals could not save anyone, the blood of an animal cannot save a human. However, they pointed to the perfect sacrifice of Jesus Christ on the cross. He was as innocent as a baby lamb. Jesus never disobeyed God. Yet He sacrificed Himself, dying in your place so that you may live. The following was written 600 years before Christ:
All of us, like sheep, have gone astray, each of us has turned to his own way; but the Lord has caused the wrongdoing of us all To fall on Him.
He was oppressed and afflicted, yet He did not open His mouth; like a lamb that is led to slaughter, and like a sheep that is silent before its shearers, so He did not open His mouth. - Isaiah 53:6-7